PRESENTING INVENTORY WITH FACEBOOK.
---
McCarthy Chevrolet Lee's Summit wanted to promote the dealership's current inventory and pricing to shoppers who are in the market for a vehicle and then measure the return on ad spend.
THE SOLUTION
---
McCarthy Chevrolet Lee's Summit partnered with automotive advertising agency Omni Advertising on this campaign to find new customers and to serve ads to people who previously viewed vehicles in stock.
To look for new customers, the team showed Automotive Inventory Ads (AIA) to specific zip codes and cities around the dealership, and to lookalike audiences based on their current customer list. To create the ads, the team uploaded a catalog of inventory and installed a Facebook pixel on the dealer's website to provide information about visitors' activities.
The automotive inventory ads then used the information from the pixel to show people vehicles they had previously looked at online, helping to bring these shoppers to the next phase in the vehicle buying journey. The ads appeared in a slideshow format, showing multiple vehicles and prices. Video ads showed several angles and the exterior and interior of one vehicle.
Reaching people who are actively shopping for cars online, and are more likely to buy, helped increase the dealerships return on ad spend. To further increase returns, the team also selected campaign budget optimization to automatically distribute budgets across the campaign's ad sets based on their performance.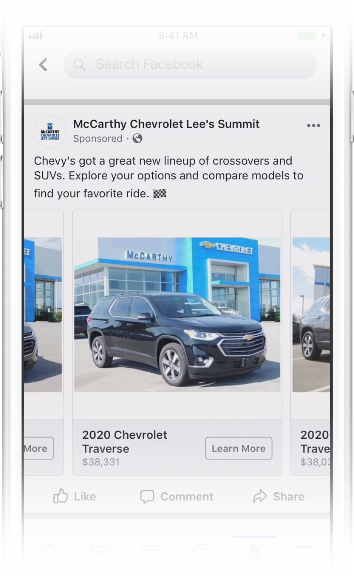 THE TAKEAWAY
---
Facebooks offline conversions solution showed that the Chevrolet dealerships automotive inventory ad campaign, which ran from May 1 - June 30, 2019, brought locals to the lot. Results included:
9.4X
Return on Ad Spend
28
Vehicles Sold
McCarthy Chevrolet

---

"The automotive inventory remarketing works very well. The metrics usually look great on these ads, but now seeing the sales with offline conversions, it further proves that inventory remarketing is a best practice for converting traffic back to sales."

-Karl Kramer

Communications Director, McCarthy Chevrolet Lee's Summit

Omni Advertising

---

"Facebook's offline conversions is an awesome way to measure the success of our ad campaigns. Previously we had to estimate results, but now we know for sure how many customers are actually exposed to and engaging with our ads. Measuring vehicle sales through offline conversions really helps us understand what is in demand and what resonates with different audiences."

-Nick Grosso

Digital Marketing Director, Omni Advertising